ENHANCING YOUR BEAUTY WITH COTTON
Using cotton
Must be used correctly to maximize effects!
Correct way to
hold cotton puff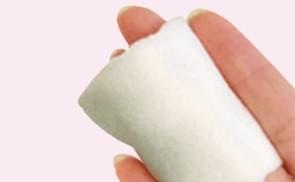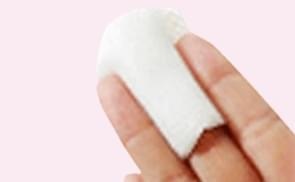 It is more effective to hold the puff with two fingers by increasing the area of contact with skin. It also reduces pressure on any one spot, ensuring gentle patting. You can use one finger in difficult spots, such as the eye areas and the wings of the nose.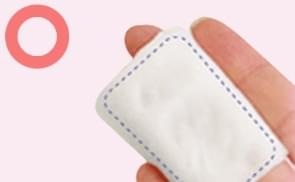 Placing Silcot on your fingers, and apply lotion lengthwise along the fingers.
As any dry spot will irritate skin on contact, be sure to apply lotion uniformly over the entire visible area, not in the middle with a round motion.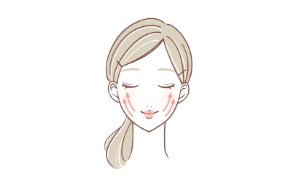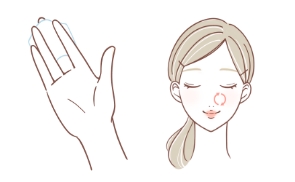 Basically, it is important to apply the entire surface of lotion-soaked cotton puff to the skin. Move "upward" over large areas, such as cheek and forehead, as if to press and stroke - no tapping or rubbing. Hold the puff on one finger and pat all over the areas around the wings of the nose and eyes. For thorough care of the eye area, start from the outer corner of the eye, moving the puff along under the eye toward the inner corner of the eye, then work on the eyelids by moistening them from the inner corner toward the outer corner of the eye.
Patting tips
for different skin types
You cannot compensate for dryness with a milky lotion or beauty potion alone. It is essential that you supply moisture generously by patting lotion on everyday.
Milky lotions and (oil-based) beauty potions are for after-care to prevent moisture from evaporating. Concentrate on the eye areas that become dry easily.
Moisturization of the cheeks is often overlooked when people become concerned by the stickiness of their T-zone. This stickiness is caused by sebum secreted from the skin. It does not necessarily mean that the skin is moist. Therefore you must apply patting well over the entire face. Patting not only supplies moisture but also tightens pores. After patting, add oil to the cheeks with milky lotion, etc.
People with oily skin often focus on removing sebum secretions and tend to neglect the need for moisturization. Thirsty skin may actually be secreting more sebum and causing pores to become uneven! Apply patting to supply moisture and tighten the pores at the same time. Do not overuse the milky lotion or (oil-based) beauty potions, except around the eye areas where even oily skin becomes dry. Do not forget to replenish oil with eye cream.